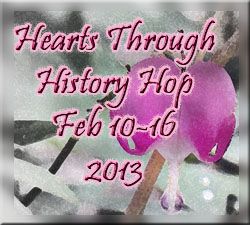 Welcome. We all enjoy a good love story that ends with a happily ever after.
In honor of Valentine's Day, and as part of the Hearts Through History Hop, I'm sharing some fun stories about historic weddings. S
ome are happy, some are not so happy, but each is amusing in their own way.
Let's begin at the beginning.
The word wedding, according to Women in the Middle Ages by Frances and Joseph Gies, originated from the Old English word wed, which meant pledge and referred to the ring and money a groom gave to his bride at the church door.
How do I love thee? Let me beat it into you.
One notable historic proposal is William the Conqueror's proposal to Matilda of Flanders. He approached her father, Baldwin V about the marriage and Baldwin readily agreed. When someone finally told Matilda about it, she said "No." Not a man to let little things like being a bastard or "no" stop him, William rode to Flanders. He intercepted Matilda on the way to church, pulled her from her horse and, according to some sources, beat her. Amazingly, after this oh so romantic proposal, she agreed to marry him. Bruises heal, but a diamond is forever.
The Krupp Diamond, weighing in at a whopping 33.19 carats, was purchased by Richard Burton for Elizabeth Taylor in 1968. It was her favorite ring and the most valuable one in her collection. The diamond was auctioned off in December of 2011 for over $8 million dollars.
If anyone has just cause why these two people should not be married…
After the invention of the telegraph, distance became no barrier to marriage and the first "on-line" weddings were performed. In 1876, William Storey was a telegraph operator stationed at the remote Camp Grant in Arizona where there were no ministers. His bride, Clara Choate lived in San Diego where there were plenty of ministers to perform the wedding service. Unfortunately, William could not get a leave of absence to travel to America's Finest City. His solution? Bring the bride to Camp Grant and have a minister in San Diego marry them over the telegraph. The plan worked, with the minister reading the vows which were transmitted by telegraph to the bride and groom who wired back their responses. The wedding was legal and the technologically advanced couple lived happily ever after.
Remembering the big day or Photoshop the Bonaparte way.
Napoleon's mother, Maria Letizia refused to attend the coronation of Napoleon and Josephine due to her dislike of the future empress. As a result, when Jacques-Louis David created his massive painting to commemorate the day, he simply added the old gal in. Although not strictly a wedding, a marriage did take place in the early hours of the coronation day. Napoleon and Josephine had originally been married in a civil ceremony that was not recognized by the Catholic Church, thus preventing her from being crowned alongside Napoleon. To sidestep this problem, a second religious ceremony was performed in the wee hours of the coronation day. My guess is, Napoleon's mother didn't attend that ceremony either.
And don't forget, if at first you don't succeed…
One can't discuss historic weddings without mentioning Henry VIII. The eternal optimist, he married six times but only two of his wives were lucky enough to outlive him. His last wife, Catherine Parr mourned her chubby hubby for only a few months before marrying Thomas Seymour, the man she'd been forced to give up for the King. Thomas was her fourth husband. Here's to never giving up on love!
Now that I've shared some fun historic wedding stories with you, please share some with me. Leave a comment below with your favorite historical "I do" and your email. I will do a drawing on 2/16/13 and one lucky commentor will win an ebook copy of my ancient Rome novella, Mask of the Gladiator. I look forward to learning about some new historic nuptials.
When you are done, don't forget to check out the rest of the hop participants and their great giveaways. Have a great Valentine's Day!
Hop Participants